« Shows & Personalities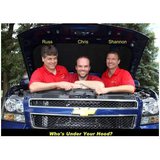 Under the Hood
On Air:

Sunday, 1pm - 3pm
About the Show

Shannon Nordstrom and Russ Evans along with Chris Carter are your Motor Medics® bringing a fun side to car - talk shows along with accurate well respected advice to help you save money on car repairs.

Tune-in to this fun Car, Talk Show airing on WNMT every Sunday afternoon from 1-3. If it's anything car repair or upkeep related we are the talk show for you. We provide entertainment and give advice on buying and selling to maintenance and everything in between.

We're the car show with fun and free automotive repair and care advice

From buying a car to finding a good mechanic and questions to ask at the repair shop, we're the car talk show for any and all of the car questions you may have.