« Shows & Personalities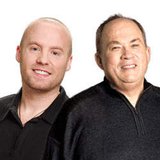 Reusse & Mackey
On Air:

Weekdays, 5pm - 6pm
About the Show

Patrick Reusse & Phil Mackey debuted as a duo in March 2010, Tabbed as The Curmudgeon and The Punk -- a play on Reusse's salty and sometimes-pessimistic attitude, and Mackey's youthful yet (self-admitted) false sense of entitlement -- Reusse & Mackey have quickly gained popularity with listeners due to their unique mix of in-depth sports talk, storytelling and biting banter. Not to mention, it's possible Reusse & Mackey may be the only sports radio tandem in the country with a 40-year age difference between them.

Reusse first hit the Twin Cities media scene as a sportswriter in 1968 at the St. Paul Pioneer Press and Dispatch, then later made his radio debut in 1980 as the co-host of "Sunday Night SportsTalk" on KSTP-AM with Joe Soucheray. One of the Twin Cities' most well-known media personalities, Reusse has written columns for the Star Tribune since 1988.

A graduate of the University of Minnesota School of Journalism in 2007, Mackey cut his teeth in the Twin Cities sports talk arena going back to 2004. Coined "Best Sports Talk Radio Host - 2011" by City Pages, Mackey hit the ground running and proved to be the perfect verbal sparring partner for Reusse. Mackey also covers the Minnesota Twins and other sports with analysis and opinion straight from clubhouses and locker rooms.