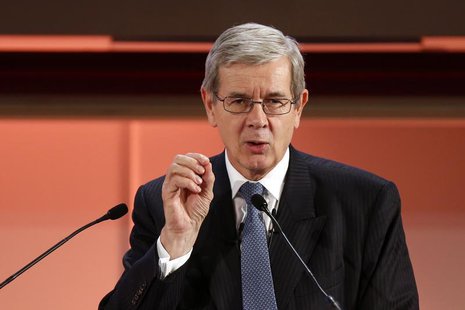 By Laurence Frost and Gilles Guillaume
FRANKFURT (Reuters) - PSA Peugeot Citroen will seek further plant cuts from French unions, Chief Executive Philippe Varin said on Tuesday, as a glacial improvement in car demand looks unlikely to solve Europe's chronic industrial overcapacity.
Peugeot, which incurred the wrath of French ministers and workers last year by scrapping a major factory and 8,000 additional jobs, has recently indicated it may need to reduce capacity further while avoiding outright closures.
Speaking at the Frankfurt auto show, Varin confirmed that production line shutdowns were "exactly the discussion we are having" but said he would present cutbacks to unions before announcing details.
Asked whether more than one line would have to go, Varin replied: "That is part of the negotiation ... It also depends on our assumptions for the market and our market share - discussions are ongoing."
Peugeot, one of the automakers worst hit by a European car sales slump now in its sixth year, has vowed to return every plant to profitability as it prepares for closer cooperation with alliance partner General Motors .
Unions reacted with surprise to the CEO's comments.
"All I can say is that this discussion has not happened yet," said Franck Don, an official with the moderate CFTC union. "Downsizing has already happened as far as I'm concerned, so I'm astonished that it's coming up again."
Peugeot has shrunk several domestic plants in recent years, leaving those remaining with two production lines - such as Mulhouse and Sochaux in eastern France, or Poissy near Paris - most vulnerable to further cutbacks.
"Clearly there's more flexibility at factories with two lines than those with one," Varin said. "The choices to be made are a matter for discussion and negotiation."
The Paris-based company lost 5 billion euros ($6.6 billion)last year, but said in July it expected to beat its 2013 goal of halving industrial cash burn to 1.5 billion euros.
In a presentation to analysts following the same July 31 earnings announcement, Varin also indicated that further capacity cuts were on the way.
"We have done in the past some shrinking of capacities (at) some sites," he said. "We've done it so we know how to do it."
Sales growth would not be enough to meet targets for reducing capacity, he added at the time. "We're not relying on very significant improvements in the European market."
In labor talks that opened in May, Peugeot is seeking wage restraint and increased working time among other concessions, but has yet to present proposals for job or factory cuts.
The company hopes to conclude a labor deal by October, but the talks may take longer, Varin said.
He added that decisions had yet to be made on where to build new vehicles jointly planned with GM, which acquired 7 percent of the troubled French carmaker in an alliance deal last year.
($1 = 0.7546 euros)
(Reporting by Laurence Frost and Gilles Guillaume; editing by David Evans)