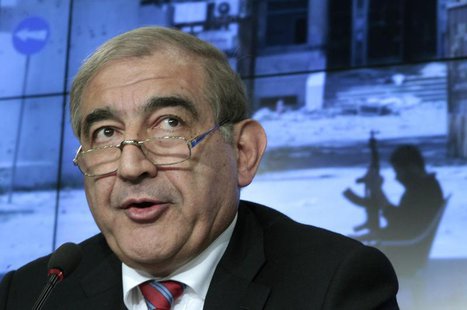 By Alexei Anishchuk
MOSCOW (Reuters) - A senior Syrian official said on Thursday that a long-delayed international conference aimed at ending his country's civil war was scheduled for November 23-24, but co-organizers Russia and the United States said no date had been set.
A spokeswoman for the U.N. Syria peace envoy Lakhdar Brahimi also cast doubt on the statement, saying the timing of the conference intended to bring Syria's government and opposition together had not yet been agreed.
Syrian Deputy Prime Minister Qadri Jamil gave what he said were the dates for the meeting during a news conference in Moscow. He later told Reuters: "This is what (U.N. Secretary General) Ban Ki-moon is saying, not me."
Hours later, Russian Foreign Ministry spokesman Alexander Lukashevich said: "We shouldn't get ahead of ourselves."
"It is not a matter for Syrian officials but the responsibility of U.N. Secretary General to announce and set dates agreed with all sides," he said.
The United States seconded that.
"No date is set until it is set and announced by the U.N.," a senior State Department official said.
Brahimi spokeswoman Khawla Mattar said she did not expect a date to be announced before early November.
"We are still not announcing a date because we don't think they are finalized or agreed by all parties," Mattar said.
But she said a deputy to Brahimi, Nasser al-Kidwa, would meet with Syrian opposition representatives in Istanbul and other capitals to "discuss with them their readiness for specific dates in November."
The deal reached last month for Syria to scrap its chemical weapons rekindled efforts to convene the conference, dubbed "Geneva 2", which Russia and the United States have been trying to organize since May.
Jamil has made several visits to Russia during the conflict, which has killed more than 115,000 people since it began in March 2011, according to the Syrian Observatory for Human Rights monitoring group.
He said the conference was needed because "everyone is at a dead end - a military and political dead end.
"Geneva is a way out for everyone: the Americans, Russia, the Syrian regime and the opposition. Whoever realizes this first will benefit. Whoever does not realize it will find himself overboard, outside the political process."
(Additional reporting by Stephanie Nebehay in Geneva and Lesley Wroughton in Washington; writing by Steve Gutterman; editing by Andrew Heavens and Tom Pfeiffer)