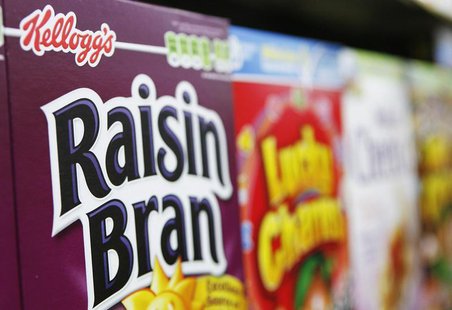 By Martinne Geller
(Reuters) - Kellogg Co and Hillshire Brands reported quarterly results on Thursday in line or better than Wall Street estimates, but both food companies' shares fell in early trading.
U.S. packaged food stocks have gained more than 21 percent this year as investors look for defensive, high-yield investments and hope for more deal-making following the buyout of H.J. Heinz Co .
Specifically, Kellogg shares rose nearly 16 percent and Hillshire shares rose more than 26 percent, fueling expectations of strong results.
"When you go on big runs like that, you have to beat and raise guidance," said Edward Jones analyst Brian Yarbrough. Regarding Kellogg, he added: "This is just a ho-hum quarter, so I think there could be a little profit-taking."
Shares of Kellogg, which makes Corn Flakes cereal, Eggo waffles and Keebler cookies, fell 1.6 percent to $63.55 on the New York Stock Exchange, while Hillshire, which makes Ball Park hot dogs and Jimmy Dean sausages, fell 4 percent to $34.14.
Hillshire reported higher-than-expected earnings and said for the full-year, they should come in at the high end of the previous range.
Hillshire, which separated last year from D.E Master Blenders 1753 , is also seen as a potential takeover target.
Kellogg said net income was $311 million, or 85 cents per share in the first quarter, down from $351 million, or 98 cents per share, a year earlier.
The decline in profit was largely due to the rising cost of commodities, Kellogg said, adding that the first quarter included a majority of the inflation it expects for the full year.
Excluding accounting adjustments, costs from integrating the newly acquired Pringles business and a hit from the devaluation of Venezuela's currency, earnings were $1.02 per share. That was in line with company expectations and analysts' average estimate, according to Thomson Reuters I/B/E/S.
Net sales rose to $3.86 billion, but missed analysts' average estimate of $3.94 billion, according to Thomson Reuters I/B/E/S.
The world's biggest cereal maker said it was on track to meet its goal for the full year, which calls for profit growth of 5 percent to 7 percent. That would translate to earnings of $3.82 to $3.91 per share.
(Reporting by Martinne Geller in New York; Editing by Maureen Bavdek)