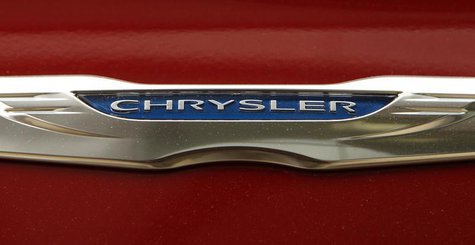 By Jennifer Clark and Ben Klayman
MILAN/DETROIT (Reuters) - Fiat's U.S. unit Chrysler, which generates most of the group's net profit, lowered its outlook as it struggled to fill orders due to parts shortages, hitting the Italian automaker's shares.
In recent quarters, Chrysler's booming U.S. sales have compensated for Fiat's losses in Europe, where demand hit 20-year lows in the first half of the year.
Fiat-Chrysler Chief Executive Sergio Marchionne said on Tuesday Chrysler had seen parts shortages at most of its plants as it tried to keep up with strong demand, which, in turn, had resulted in lost volumes.
Chrysler trimmed its full-year net profit forecasts to a range between $1.7 billion and $2.2 billion from $2.2 billion.
Chrysler's competitors General Motors and Ford both trounced expectations in their earnings releases last week. Supply chain glitches have been magnified at the much smaller and less diversified Chrysler, which is overly dependent on Jeep and truck models to make money.
"We're trying to reduce the recurrence of these events, but they keep on happening at a sufficient rate that we had look at the forecast and admit that the overall number that we had set for the year may be at risk," Marchionne said on a conference call. "That's why we've prudently taken it to the low end of the range.
"I'm not looking for excuses," he added. "I'm just telling you what we're experiencing right now."
Fiat, which owns 58.5 percent of Chrysler, plans eventually to merge the two carmakers.
In a separate statement, Fiat confirmed the combined group's 2013 financial targets, and said Fiat's losses in Europe narrowed in the second quarter to 98 million euros ($130 million) even as car shipments in the region fell 5 percent.
Ford and General Motors also reduced their losses in Europe in the second quarter, by cutting costs.
At 1500 GMT, Fiat's shares were down 4.0 percent at 6.04 euros in volatile trade, compared with a 1.4 percent rise in Italy's blue-chip FTSE MIB index <.FTMIB>.
"The market didn't like the Chrysler profit warning," said an analyst in Milan. "Chrysler's second-quarter results were slightly better than expected, but the free cash flow was modest and below our estimates. The news is negative."
Chrysler's production rate has gone from 1 million cars a year in 2010 to 2-1/2 times that rate and the company will add another 200,000 vehicles of annual output next year, Marchionne said. That causes stress on the supplier network.
Chrysler also had a $151 million charge for Jeep recalls. Marchionne said he does not expect any more charges related to the recalls.
The company said it sees worldwide vehicle shipments this year of 2.6 million, at the low end of its previously forecast range of 2.6 million-2.7 million. It confirmed revenue targets.
Marchionne said July will continue the trend of higher Chrysler sales in the U.S. market and the outlook for the rest of the year looks positive.
NEW MODELS
Chrysler is spending on new model launches. In the first quarter, its profits fell 65 percent as it absorbed the cost of new-vehicle launches and a high-selling discontinued model, the Jeep Liberty, no longer fed through to the bottom line.
The Liberty's replacement, the Cherokee, will be in dealerships from August.
Net profit at Chrysler rose to $507 million in the second quarter from $436 million a year before. The quarter included increased pricing at Chrysler of $337 million due to the rollout of newer vehicles like the Ram pickup truck and Jeep Grand Cherokee SUV, which allows Chrysler to boost prices and cut incentives.
Fiat said its group trading profit - earnings before interest, taxes and one-time items - was 1.03 billion euros ($1.37 billion), just above analysts' forecasts of 1 billion euros, as its loss in Europe narrowed and sales in Asia improved.
Fiat's net debt was 6.71 billion euros, against a forecast of 7.1 billion euros and compared with 6.5 billion euros at year-end. Fiat was due to provide more information on its earnings at a conference call from 1530 GMT.
Marchionne said no deal was imminent regarding the company's desire to purchase the remaining 41.5 percent of the company owned by a trust affiliated with the United Auto Workers for former Chrysler workers.
The two sides disagree on the value of that stake and the issue is simmering in a Delaware court with a ruling expected by the end of July.
(Reporting by Jennifer Clark, Ben Klayman and Stephen Jewkes; Editing by Anthony Barker)