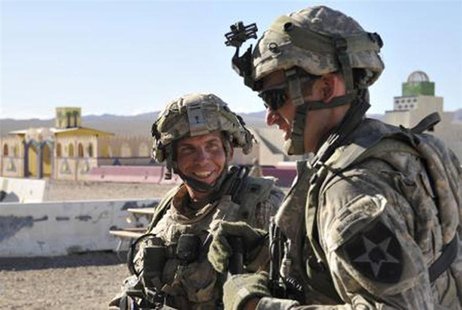 By Laura L. Myers
TACOMA (Reuters) - A U.S. soldier accused of killing 16 villagers in two forays from his camp in Afghanistan deferred making a plea before a U.S. military court on Thursday to charges of premeditated murder, for which prosecutors are seeking the death penalty.
U.S. Staff Sergeant Robert Bales, a veteran of four combat tours in Iraq and Afghanistan, is accused of gunning down the villagers - mostly women and children - in their homes in two villages in Afghanistan's Kandahar province.
Bales, 39, wearing green military dress, entered his deferred plea through one of his defense attorneys, who also waived reading of charges against Bales.
Bales answered "Sir, yes sir" when asked if he understood his case could result in the death penalty.
Prosecutors say Bales, 39, acted alone and with "chilling premeditation" when, armed with a pistol, a rifle and a grenade launcher, he left his base twice, returning in the middle of his rampage to tell a fellow soldier: "I just shot up some people."
The shootings occurred over a five-hour period in March. It was one of the deadliest incidents the military has blamed on a rogue U.S. soldier since the Vietnam War, and strained U.S.-Afghan relations.
During a pre-trial hearing in November at Washington state's Joint Base Lewis-McChord, where Bales is being held and where Thursday's arraignment took place, witnesses testified that he had been angered by a bomb blast near his outpost that severed a fellow soldier's leg days before the shootings.
The government believes Bales was solely responsible for the deaths, and survivors have testified that they saw only one U.S. soldier. However, several indirect accounts have suggested more than one soldier may have been involved.
Bales was bound over for court martial in December and faces 16 murder charges, as well as other charges, including attempted murder, assault and drug and alcohol charges.
Defense lawyers have pointed out incidents before the shooting where Bales lost his temper easily, which could help set up an argument that Bales was suffering from post-traumatic stress disorder.
(Writing by Bill Rigby and Eric M. Johnson; Editing by Cynthia Johnston and Tim Dobbyn)