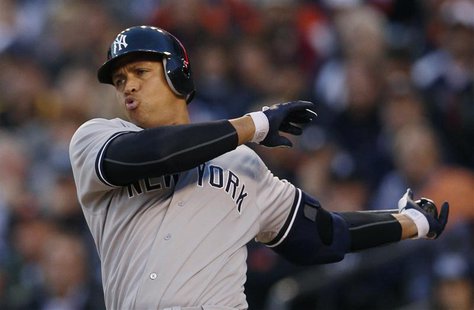 By Larry Fine
NEW YORK (Reuters) - Alex Rodriguez was back at Yankee Stadium on Monday for the opening day of the Major League Baseball season but made only a fleeting appearance.
The injured third baseman, who underwent hip surgery in January, remains on the disabled list and is expected to miss the first half of the season, so he did not make it on to the field.
Although he was dressed in the team uniform, he was not introduced to the crowd, remaining on the bench after briefly speaking with reporters outside the clubhouse.
"I don't need to be introduced to feel like I'm a part of this team," he said. "When I get introduced I want to be on the field and not look back."
It was the first time Rodriguez had spoken to reporters since he was named as a client of a Miami anti-aging clinic accused of supplying performance-enhancing drugs to leading baseball players.
Rodriguez confirmed he had spoken with investigators from the MLB Players Association but said he had nothing to add on the matter after he released a statement in February, denying the accusations against him.
"I'm not going to comment on that," he told reporters. "I know you've got to ask that question. We put out a statement, and we definitely stand by that."
Rodriguez was more forthcoming when asked about the prospects of the Yankees this season.
The 37-year-old is among a handful of key players, including captain Derek Jeter, Curtis Granderson and Mark Teixeira, currently sidelined with injuries, but warned against writing off the Yankees' chances.
"I think this year we have a very special opportunity," he said. "This is my 10th year here in New York and this is the first time we've ever been predicted to finish in last place, which I think is pretty crazy.
Rodriguez called it a "year of opportunity for our team and a year of opportunity for me, and I love when all these people say you can't do this, you can't do that. You're done. You're old. I find it's a good challenge to prove all you guys wrong."
(Editing by Julian Linden)