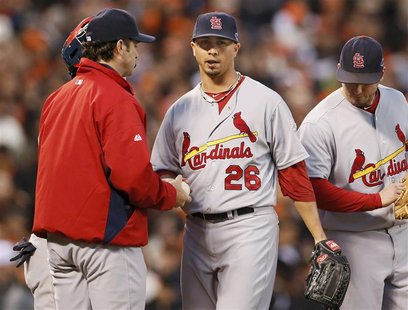 (Reuters) - Bad bounces and stone cold silent bats cost the St Louis Cardinals their last chance to return to the World Series and defend their title, the team said after a 9-0 drubbing by San Francisco in the National League Championship Series decider.
The Giants' victory in San Francisco gave them a 4-3 triumph in the best-of-seven NLCS and put the winners into the World Series, starting on Wednesday, against the Detroit Tigers.
One of the biggest plays of Monday's Game Seven came in the third inning with Giants outfielder Hunter Pence at the plate with no outs.
Pence's bat broke on a swing and the odd spinning action of the ball had Cardinals shortstop Pete Kozma breaking to his right to field it, before the ball swerved past him to his left.
Three runs scored on the play during a five-run inning that gave San Francisco a 7-0 lead.
Slow motion replays later showed that the ball slid down the barrel of Pence's bat, making contact twice more and imparting a baffling spin that helped get it past Kozma.
"The read I got, it was going toward the hole," said Kozma. "The ball went like a little banana and went up the middle. I just reacted to the ball, I had no chance at it. I've never seen anything like it."
St Louis starting pitcher Kyle Lohse failed to register an out in that critical inning before he was removed and eventually charged with five runs on six hits.
"You have to tip your hat to them because they played a good game, but they got a lot of bounces," he said. "Weird things happened."
Cardinals manager Mike Matheny blamed their own lack of hitting for the reversal of a series in which St Louis held a 3-1 advantage, needing just one more win to return to the Fall Classic and face Detroit.
"We've got to put something on the board and our offense has potential to do it and we've done it all season," Matheny said. "But you have short runs like this sometimes, it's a tough game.
"It's about the team that's hot, and we went on a cold streak. We got to this point by being that team that was hot and taking advantage of opportunities."
The Cardinals were outscored 20-1 by San Francisco in the last three games of the series.
"It stinks, obviously, not getting to the World Series," said St Louis third baseman David Freese, the Cardinals' postseason Most Valuable Player in last year's championship run.
"But we're very proud of what we accomplished this year."
The Cardinals had a major makeover from last year as manager Tony La Russa retired, pitching coach Dave Duncan took a leave of absence and slugger Albert Pujols left as a free agent.
Injuries also deprived the Cardinals of pitcher Chris Carpenter for most of the season as well as shortstop Rafael Furcal.
In the end, manager Matheny tried to put a positive spin on the season.
"I think we've got a special group of players over on our side, who've overcome a lot of obstacles, who did a lot of things people didn't think we could do," Matheny said.
"There's quite a bit to be excited about if you're a St Louis Cardinals fan."
(Reporting by Larry Fine in New York, Editing by Peter Rutherford)