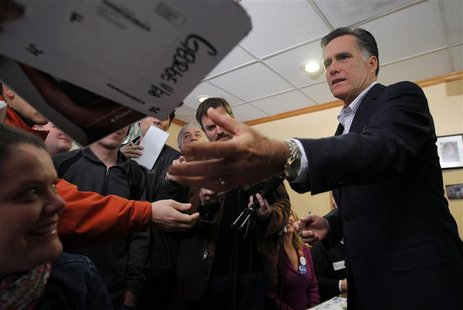 WASHINGTON (Reuters) - The former national manager of Jon Huntsman's presidential campaign said on Monday she was endorsing Mitt Romney for president.
Susie Wiles, a long-time Florida political figure, said she had observed all of the Republican candidates as the campaign has progressed and concluded that Romney was the best to defeat Democratic President Barack Obama in 2012.
Romney, a former Massachusetts governor, has consistently been among the front-runners in the race for the Republican presidential nomination. Huntsman, a former governor of Utah with a low national profile, has failed to gain any traction.
Polls show only about 2 percent of voters supporting Huntsman in the nomination race, putting him in seventh place in national polls. Romney is in second place with about 21 percent support, according to polls compiled by www.RealClearPolitics.com.
Wiles stepped down as Huntsman's campaign manager in July, citing the commitment of the campaign and saying she had joined the campaign primarily to get it started.
Her positions in Florida politics had included serving as campaign manager of Rick Scott's successful 2010 gubernatorial campaign.
Huntsman's campaign said the "unusual announcement of a paid political consultant's endorsement" was a sign that Romney's campaign is concerned about traction Huntsman is gaining in New Hampshire, which holds its primary on January 10.
Huntsman, Obama's former ambassador to China, has focused his campaigning on relatively moderate New Hampshire and has about 10 percent in statewide polls there. Romney has held a wide lead in the state, where he has a vacation home, but lately has seen former Speaker of the House Newt Gingrich gain on him in polls there.
(Reporting by Patricia Zengerle, editing by Bill Trott)