« back to Movies
Taken 2
Release Date: Oct. 5, 2012
Genres: Action/Adventure, Suspense/Thriller, Drama
Cast: Liam Neeson, Maggie Grace, Famke Janssen, Rade Serbedzija, Leland Orser, Luke Grimes, Laura Bryce, Aclan Bates
Directors: Oliver Megaton
Official Site: http://www.takenmovie.com/
Distributor: 20th Century Fox
Bryan Mills, the retired CIA agent with a particular set of skills stopped at nothing to save his daughter Kim from Albanian kidnappers. When the father of one of the kidnappers swears revenge, and takes Bryan and his wife hostage during their family vacation in Istanbul, Bryan enlists Kim to help them escape, and uses the same advanced level of special forces tactics to get his family to safety and systematically take out the kidnappers one by one.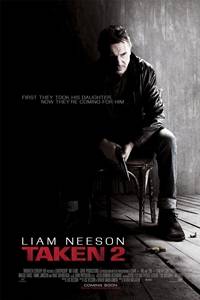 Show Times / Buy Tickets
There are no current showings for Taken 2 in this area.