« back to Movies
Finding Nemo 3D
Release Date: Sept. 14, 2012
Genres: Animation
Cast: Albert Brooks, Ellen DeGeneres, Alexander Gould, Willem Dafoe, Brad Garrett, Allison Janney, Austin Pendleton, Stephen Root, Vicki Lewis, Joe Ranft
Directors: Andrew Stanton, Lee Unkrich
Official Site: http://disney.go.com/finding-nemo/home/
Distributor: Walt Disney Pictures
"Finding Nemo" follows the comedic and momentous journey of an overly protective clownfish named Marlin and his son Nemo -- who become separated in the Great Barrier Reef when Nemo is unexpectedly taken far from his ocean home and dumped into a fish tank in a dentist's office. Buoyed by the companionship of Dory, a friendly-but-forgetful Pacific regal blue tang, Marlin embarks on a dangerous trek and finds himself the unlikely hero of an epic effort to rescue his son -- who hatches a few daring plans of his own to return safely home. In 3D at select locations.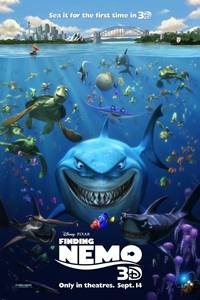 Show Times / Buy Tickets
There are no current showings for Finding Nemo 3D in this area.