Photo credit: coopah from morguefile.com
There are several things you should take into consideration when your child goes to school. Following are some tips which can make the school year easier for both you and your child with hearing loss.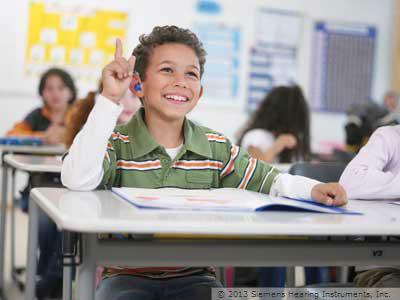 Make sure you take the time to talk to your child's teacher or teachers about his or her hearing loss. Explain how the hearing aids work and their limitations.
Make sure your child always has extra hearing aid batteries. One package for the teacher to keep and one package for in the locker would be great!
Take a hearing aid cleaning kit to leave at school: This should include some hearing aid disinfectant wipes, wax guards, picks, and brushes. If your child is young, teach the teacher how to trouble shoot and clean the hearing aids. Provide a hearing aid listening device, so the teacher can listen to the hearing aid to check and see if it is working.
Volunteer in the classroom as often as you can so you can see how your child interacts with others. This may be a good way to pick-up on any bullying that might be going on.
Learn about various Hearing Assistive Technologies. Your child could benefit from the use of a personal FM system. The microphone is worn by the teacher, and wirelessly sends the speech signal in to the child's hearing aids. There are several different ways of accomplishing this today. Wireless hearing aids and the new made-for- iPhone TM hearing aids, would have great advantages in the classroom situation...
Check to see if your school has Communication Access Realtime Translation CART) or C-print systems available. These allow deaf and hard of hearing students the ability to read conversations as they're taking place on a small personal screen, overhead or large screen.CART systems interpret conversations word-for-word while C-print systems interpret the content.
If your child is a swimmer you may want to consider getting some Aquaris TM hearing aids from Siemens. These hearing aids are waterproof, dust proof, and shock proof and are perfect for the athletic student and the swimmer. Other hearing aids can get damaged by the humidity in the locker room and swimming pool area. It would be a good idea to provide your child with a hearing aid desiccant jar to store the hearing aid in their gym locker during class time.
There are also a variety of hearing aid accessories that can be used to protect the hearing aids from damage. Body clips keep the hearing aids from falling off the ear and getting lost. Sweat bands protect the aids from precipitation. These products and more can be purchased or ordered from your hearing aid provider.
Your child's academic success depends on you. As a parent you must be a strong advocate for your child's education.. Better hearing means better education!
(image used with permission from Siemens)
The content contributions of Welsch Hearing Aid Company should not be considered by anyone as a substitute for medical or other hearing health professional diagnosis, treatment, advice, or recommendations.